GENG WAK LONG PRODUCTION - 2016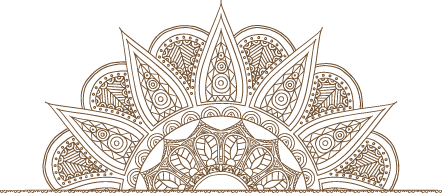 MOHD KAMRULBAHRI
HUSSIN
@ KAMRUL HUSSIN
@ WAK LONG
Group Founder/Leader/Artistic Director/
Musician

Instruments - Kelantanese Malay Drum
(Rebana Ibu-Dikir Barat, Gedombak, Gendang
Silat), Rebab, Serunai, Kesi and Vocal

As the founder of Geng Wak Long, Kamrul has
performed as a multi-instrumentalist/composer/
music director in all manner of professional productions nationally and overseas. His performances include traditional and contemporary music. Majoring in Malay and western percussion, Kamrul is a marvelous percussionist and improviser in traditional music and contemporary exponent that Combined with his style and skill, Kamrul has become one the best Malaysian percussionist through all the performances.He was exposed at an early age to the traditional arts and ritual through his father who is an exponent of Main Peteri, the art of ritual healing. When he was in his teens, he could already play traditional Malay musical instrument such as all the Kelantanese drum (Gendang Ibu , Gendang Anak and Rebana - Dikir Barat), Canang and Gong. Besides that, he also learn how to be a Dalang (Puppet master) in Wayang Kulit Kelantan (Shadow Puppet Play) and make, repaired the musical instrument with ADIGURU the late Pak Hamzah Awang Amat, a National Laureate and Fukuoka Culture Prize Winner, Pak Nasir Yusoff, His Father Pak Hussin, Che Mat Jusoh, Pak Mail-Ismail Mamat, Pak Ibrahim Senik and Pak Anuar Ismail. He also learned to play Modern/western Drum and percussions like Drum set (Sugito, Philip Robert), Percussion in orchestras with Gerald Novak, the principal percussionist of (Malaysia Philharmonic Orchestra MPO-1998), Indian percussion (Kirubakaran Narayana), Chinese Percussion ( Benard Goh-Hand Percussion Team, Chien Kam Chen), Latin Percussion (Steve Thornton, Manes Yahuda, Amir Firza, Alonso, Mohd Nor-Singapore, Mark Mazur - Canada).

Mohd.Kamrulbahri received his Degree in Music from the National Arts Academy of Malaysia (Akademi Seni Kebangsaan 1996-2000) now known as National Academy of Art, Cultural and Heritage Malaysia (ASWARA). He majored in Malay and Western Percussions. Currently doing his Master Degree at the National University of Malaysia ( UKM ) under the School of Malay Language, Literature and Culture (PPBKKM), faculty of Social Sciences and Humanities (FSSK).

He was the Musical Director and also musician for modern theatre productions such as Penyerahan Puteri by Normah Nordin, Bagaton by Japrin Kapis and Gelanggang Tok Wali by Shukor Yon as well as traditional theatre productions such as ASK's Mak Yong "Anak Raja Bongsu Sakti", Hikayat Qaziq by Wahab Hamzah -DBP-(2007). Mak Yong -Titis Sakti by Norzizi Zulkefli (2009). Music Director for show Wayang Kulit & Malaysian Music at United Nation, NEW YORK (2006)

Kamrulbahri backed many popular Malaysian local artistes such as Tan Sri S.M. Salim, Zainal Abidin, Dato' M. Nasir, Ziana Zain, Ning Baizura, Dato' Siti Nurhaliza (Royal Albert Hall London 2005), Salleh Yaakub, Zalee Redang in Album 2000, Noraniza Idris in Album (Aura-2005), Datuk Ramli Sarip and Sweet Charity (Esplenet Singapore 2009, Istana Budaya and Petronas Filharmonic Hall), Dayang Nur Faezah (Kasih Album -2006), Resh Monu ( Monumental Album 2005), Farid Ali ( MR GAMBUS-2005) and also the popular Nasyid group, Raihan -(Spain, England and Europe Tour), Rabbani, Hijjaz. Gambus Goes Latin in concert with Farid Ali at Dewan Filharmonic Petronas (2008), Notwithstanding, are his performances with international artistes Sadao Watanabe (Japan), Visnu Mohambat (India), Michael and Victor (Taiwan), Steve Thorthon, New York, Djaduk Ferianto "KuaEtnika" (Indonesia) and in the collaboration project, "WINDOW TO ASIA" (Hanoi, Vietnam), other collaboration with Somnath Roy (India), Dedek Wahyudi (Indonesia), Grace Nono (Philippines), Waewdao Sirisook (Thailand) and a few U.S.A artists such as Gregory Acker, David Cutler, Shoji Kameda, Rob Levit and Andrew Mcgraw. He has also performed Malaysia Music in Sweden, Singapore, Thailand, Geneva, Japan (Kobe 2003, Fukuoka 2000), Spain and Toronto - Canada. He also involved in Venice film Festival Italy (2004)-for Puteri Gunung Ledang (PGL) Malaysian Night - Music Director, not only that he also one of the musician who did the traditional percussion, serunai and rebab for PGL Movie.

International Festival such as Edinburgh International Arts Festival2007, Rain Forest World Music Festival 2002, 2006 (APU), 2009 (ASIKA) and 2013 (Rhythm In Bronze-RIB), Penang International World Music Festival 2007(ASIKA), Jarazum International Jazz Festival 2004, Penang International Jazz Festival 2007, Malaysian Food Fair in Los Angeles and Las Vegas" Taste Of Malaysia 2008", Beishan World Music Festival 2011 and Kuala Lumpur International music Festival 2007, 2008 and 2009.

Kamrul also performed at TV program as Wak Long for the program call "Nasi Lemak Kopi o" at Channel 9 (April- December 2008).

Kamrul contributes his music for film such as Puteri Gunung Ledang PGL (2004), Baik Punya Ciluk (2005), Qaisy dan Laila (2004), Mantra 2009 and As Music Director for movie title Senjakala (2011) direct by Ahmad Idham, Sesionist (Musical instrument - Rebab) for BUNOHAN 2012 Movie directed by Dain Said and also sessionist for traditional Malay instrument in "Puntianak Vs Orang Minyak" Film by Afdlin Shauki 2012.

Kamrul has been awarded as "Anugerah Pengiat Seni Kampus-UKM 2004", Nominated as Best Solo Performance in Boh Cameronion Art Award 2004 for Rhythm In Bronze in Concert at Dewan Philharmonic Petronas, Fellowship program (Asia Pacific Performing Exchange -APPEX 2006) UCLA, Los Angeles, USA, The World Master in arts and culture 2007 and 2010-Seoul Korea, "Anugerah Graduan Cemerlang ASWARA-2007" by The Prime Minister of Malaysia (Y.A.B Datuk Seri Abdullah Hj Ahmad Badawi), Anugerah Bakat Muda seni Muzik 2009 (Malaysian Young Talent Award in Music category - Music Director) for 8th National Art Award and Selangor Young Talent Award 2011 - Performing Art.

Mohd.Kamrulbahri has been touched and lectured many places such the National Arts Academy of Malaysia (Akademi Seni Kebangsaan) A.S.K or ASWARA (2001-2008), the National University of Malaysia (Universiti Kebangsaan Malaysia-UKM- 1997-2003), University Of Malaya (U.M), University of Technology Mara (U.i.T.M), University Of Putra Malaysia-UPM, The International College Of Music-ICOM, Sunway University College (2009), full time Contract base lecturer at Music Faculty, Akademi Seni Budaya Dan Warisan Kebangsaan (ASWARA) 2008-2012 and Now as Distinguished Creative Scholar at the Faculty of Music, University Technology MARA (UiTM) 2012-2014.

Technical Director/Musician/Kelantanese
Silat Dancer ( Martial Art)

Instruments - Gendang Anak, Geduk, Serunai,
Marakas & Vocal

Kamarul Baisah received his formal studies at the
National Academy of Arts Culture and Heritage
Malaysia (ASWARA). He is an Instrument Maker
for his Diploma of Music and for his degree; he is
majoring in Theater Directing. Kamarul Baisah is also Pak Hussin's son, he is number 5th in the family. For this group Kambai are taking care of Technical and also as musician such playing Geduk, GendangAnak, Buah Romba (Kelantanese Traditional Marakas) and also as Pesilat (Martial Art). He also Trained as Tok Dalang, Tukang Karut (Dikir Barat) and Tok Peteri under Adiguru Pok Nasir Yusoff and also with his father (Pok Hussin Yusoff).

He has worked at a few places such as Jabatan Kebudayaan dan Kesenian Negara Malaysia (JKKN) as musician (Department of art and culture Malaysia), the National Academy of Arts Culture and Heritage Malaysia (ASWARA) as Part time Lecture, Cultural Centre at National University of Malaysia (UKM) as Wayang Kulit Instructor and University of Islamic Sains (USIM) as Dikir Barat instructor.
Baisah or KAMBAI has performed nationally and overseas such as Jakarta, Australia, Bali - Indonesia, Istanbul- Turki, Beijing- China.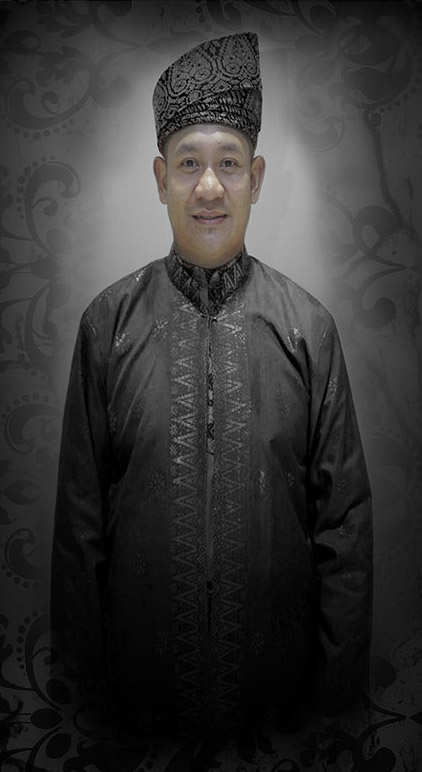 KAMARUL BAISAH HUSSIN
@ KAMBAI
Musical Director/Musician/ Kelantanese
Silat Dancer

Instruments - Rebana Ibu - Dikir Barat,
Serunai, Gendang Ibu, Vocal,

Mat Din is well known as a percussive player on his
field. He is a multi-instrumentalist / composer /
music director / arranger and more. His
International Arts Collaboration with Asia has
brought him further ahead in musical composition mostly experimental music. He also has taken part in international music festivals in China, Japan, Brunei, Germany, Indonesia, Thailand, Singapore and Vietnam. Mat Din is a Pok Hussin's son number 7th in the family and was born in Kelantan at Kampung Banggol Gelang Mas, Pasir Mas. Started to play kelantanese traditional musical instrument at the age of 8 year old. Under the supervision and guidance from his father, his Uncle (PokJah@ Hamzah Yusoff) and other traditional Adiguru (Master), he master all the Kelantanese Ensemble such as Makyung, Dikir Barat, RebanaUbi, Kertuk, Main Peteri ( Ritual Healing Music), Kelantanese Silat( Martial art), Wayang Kulit Kelantan (Kelantanese Shadow Puppet Play) and Tomoi (Mui Thai). Mat din also received formal studies at the National Academy of Art, Culture and Heritage of Malaysia (ASWARA) until the Third Year and also informal study under Kelantanese Master as below :-

- Pak Su Age, Jemi Chek Ngah (Gelang Mas) for Kelantanese Dikir Barat
- Pak Hussin, Abang Mat Morak, dan Pak Nasir Yusoff for Wayang
Kulit Kelantan (Kelantanese Shadow Puppet Music)
- Ibrahim Senik, Pak Nasir Yusoff for Makyung music
- Pak Hussin, Ibrahim Senik, Pak Nasir Yusoff for Main Peteri
( Ritual Healing music)
- Hamzah Yusoff @ Pok Jah (Kg. Banggol, Gelang Mas) for Dikir Barat,
Rebana Ubi, Kertuk and Kelantanese Silat Music
- En. Zawawi (Pok Wi) forTari Silat Kelantan ( Martial art) Silat Kelantan.
- Master Pong from Thailand for Tomoi (Mui Thai)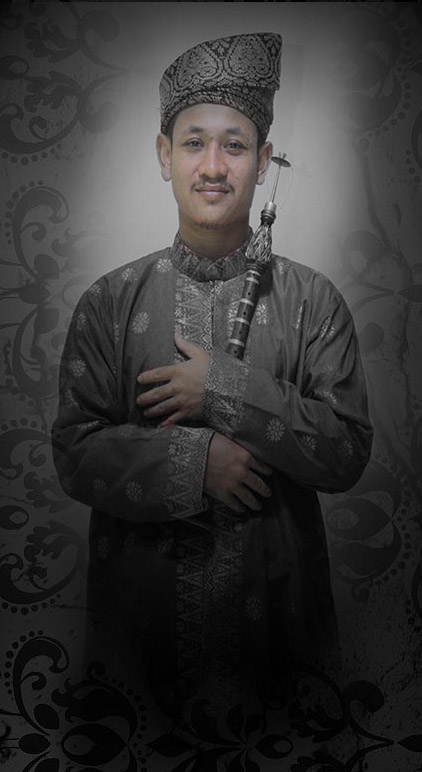 MAT DIN HUSSIN
@ MOHD SHAFIC
AMINUDDIN HUSSIN

Instruments - Gong, Gendang Anak, Serunai,
Vokal, Kesi

Was born in Kampung Banggol Gelang Mas,
Pasir Mas Kelantan. Starting to play traditional
musical instrument since he was at the age of
9 years old. Mat wan is also Pak Hussin's son,
number eight ( 8 ) in the family. Mat Wan still
study at the National Academy of Arts Culture
and Heritage Malaysia (ASWARA) under faculty
of music majoring in traditional Music (Serunai). In this group he played Gong, Kesi, Gendang, tamborin and also as back up vocal for Dikir Barat (Awok-awok).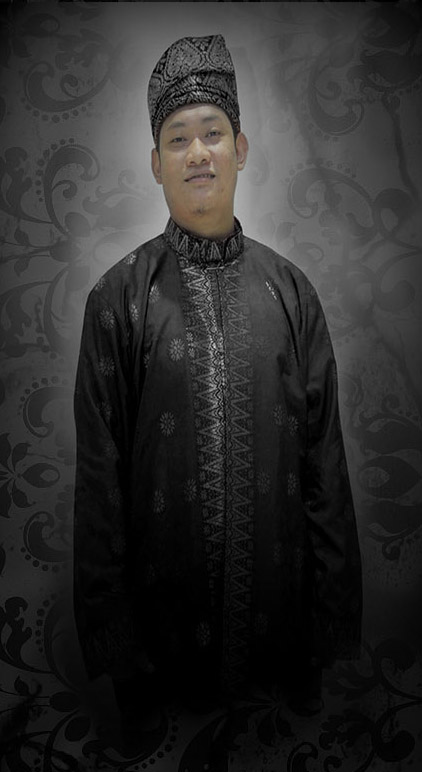 AHMAD RIDWAN HUSSIN
@ MAT WAN

Choreographer/dancer/vocal/musician
Instruments - Vocal, Canang and Gong,

Zamzuriah Zahari graduated from ASWARA
Diploma in Dance and a Bachelor of
Performing Arts (Drama). She is originally from
the state of Kelantan, full-time lecturer in Dance
Faculty ASWARA. As a Part-time lecturer at the
University and also teaching at UMTech and
Sunway College. Throughout her involvement in
the arts, she has been heavily involved
performing in and out of the country as a
choreographer, dancer, actor and singer.

Her expertise can be seen in the "Tari Inai", Mak Yong and Mek Mulung. Among her involvement in Mak Yong as the main character Pak Yong, choreographer and dancer in Mak Yong "Dewa Muda" (2001), "Dewa Indera Indera Dewa" (2003), "Raja Gondang" (2005), "Mak Yong Raja Gondang "(2007)," Anak Raja Gondang "(2008) and" Nik Kechik Dewa Muda "(2008). Also the involvement of Mak Yong Contemporary "Titis Sakti" (2009).From the Dance Tari Inai, acknowledged as 'Tokoh Muda' who has revived the art of dance heritage which has been extinct in Kelatan. Through research and practical results in Kelantan, this dance is now popular and some workshop has been done at JSSBN coaching programs, workshops and dance at USM Kelantan, Sarawak Cultural exchange.

Her talent can also be seen in the show monodrama "Rebab Berbisik II" (2007), "PuteriMak Yong" (2009), "Wad 301" (2010) and "Mak Yong Punah" (2011). Among her other involvement is as a choreographer in the production Mek Mulung Dewa Kaca (2009), Mek Mulung Malim Bongsu (2010), Mek Mulung Cahaya Bulan (2011), "Typestry 2011", TV Program "Pilih Kasih" RTM (2009 & 2011 ). Also as an actor, songwriter of 'Bangsawan' "Malim Deman" (2011).

She has been awarded 'Anugerah Seni Negara' 2006 (Young Talent - Dancer), Best Actor - DBP Monodrama Festival 2011, Best Script, DBP Monodrama Festival 2011, Munshi Dewan Sastera 2011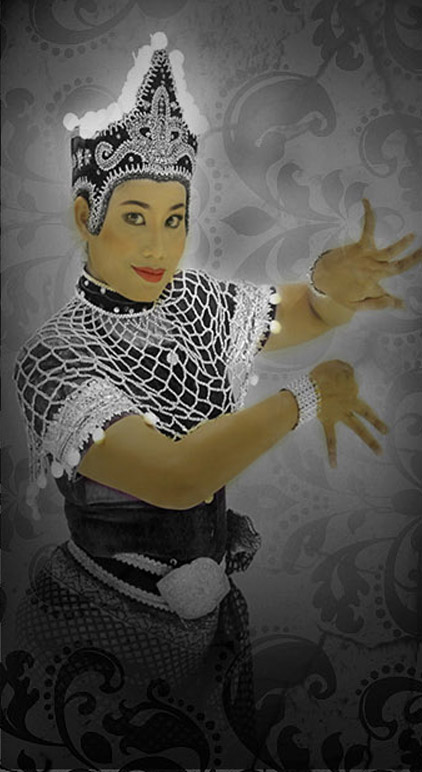 ZAMZURIAH ZAHARI
Instruments - Vocal, Rebab, Serunai, Rebana
Anak- Dikir Barat, Tok Dalang, Tok Peteri.

A multi-instrumentalist who learned from the Old
Master from Kelantan and now working as Guest
Lecturer at University of Education Sultan Idris
(UPSI). He also the instrument maker for the
Kelantanese musical instrument. He made almost
all musical instruments used in the
Geng Wak Long performance. Among the
instrument made by him Gendang Ibu, Gendang
Anak, Rebana Ibu, Rebana Anak, Gong, Canang, Kesi, Serunai, Rebab and Palang Gong (Gong Stand). Basically He can also play all the Kelantanese musical instrument beside trained as Tok Dalang (Shadow Puppet Master) and Tok Peteri (Healing ritual Master).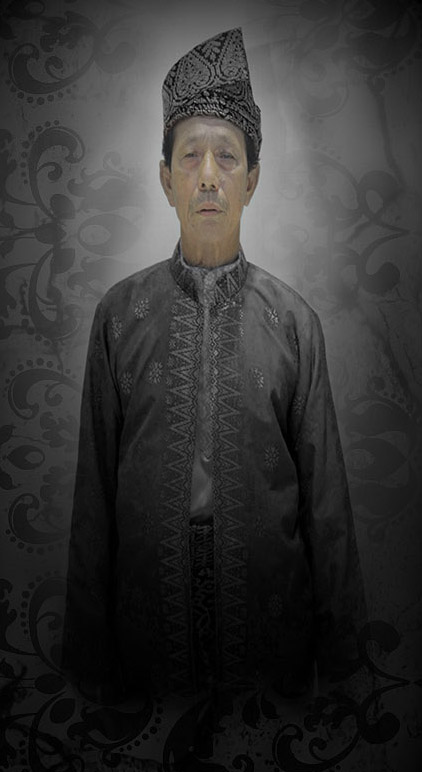 HUSSIN YUSOFF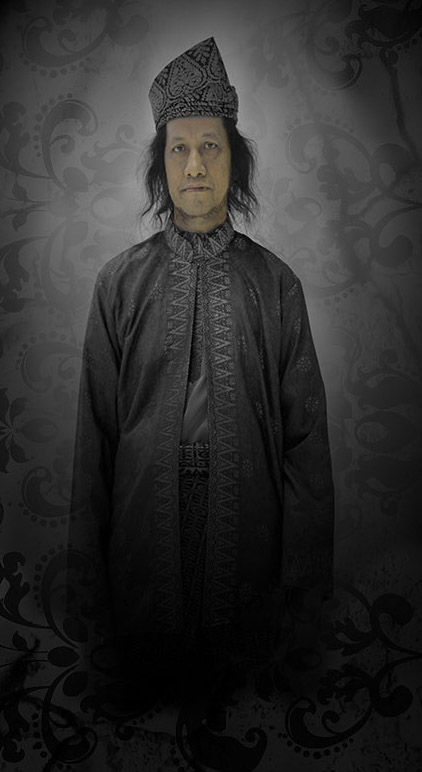 Instrument - Guitar/Keyboard and Canang

Dzafaruddin bin Zainuddin is a Guitarist and
keyboardist to back up background for the
band in harmonizing part in contemporary and pop
music. He also plays traditional musical such as
Canang and Gong in the Traditional Genre.
He is also Kamrul's Uncle from his wife's side.
He has no formal studies in western music but he
learned by an autodidact. He has been played
for national and international music festival such as, International Sound and Light Festival KLCC 2012, RainForest World Music Festival 2014 and Borneo World Expo 2014.

DZAFARUDDIN ZAINUDDIN
/ UNCLE ZAFAR


Narator/Musician/ Dancer and Publicist
Musical Instrument - Canang and Gong

Nor Hazlinawati binti Jamil graduated from
Stamford College in Marketing. She is part of
the Pok Hussin's family married to his son
(Kamrulbahri). Curently Wati Jamil is a
freelance Publicist for Warner Bros. Pictures
(Malaysia) and also for Geng Wak Long. She
plays music from Geng Wak Long, musical
instrument such as Canang and Gong. She has performed at International Door Festival 2014 at Beijing, China.

NOR HAZLINAWATI JAMIL
@ WATI JAMIL